This is the sign-up post for Myshuno! 2014.
The rules/schedule/FAQ can be found
here
. Please ask any challenge-related questions in that post. This one is
only
for sign-ups.
To sign-up, comment to this post using the following format:
Name:
(this can be your LJ name and/or whatever else you're generally known by)
Story/Stories:
(these are the project(s) you will be writing for and want prompts for)
I would (not) like...
(this space is for you to list anything you especially want or anything you are not willing to write. For example, if you want to include smutty prompts, or if you would prefer general prompts. Please try to keep it to two or three specific likes or dislikes.)
After you have signed up, please prompt other people as well! (If you are not familiar with their story, you can contribute a vague prompt such as a situational one.) For example: post a situational prompt such as "waiting in line" or "road trip," or character/pairing specific ones such as "Lilith Pleasant" or "Lilith/Dirk." The prompts can be whatever you'd like, as long as you keep the person's preferences in mind (if they post any).
You do not have to sign up in order to prompt people.
Everyone has twenty-four spaces to fill, so they will want as many ideas as possible. Let's say, for now, that you should only contribute a
maximum
of
three prompts per person.
***
As for making your card, please wait until you have a final list of twenty-four prompts before you make up a card. You do not have to take every prompt idea you are given, but you
must
have twenty-four prompts. In a week or so, we will post a list of generic prompts that you can use to pad out your card if you need to.
Once you have your final list, let us know.
We will then freeze your sign-up thread, and you can create your card.
To create your card, take your list of prompts and put them on the Myshuno! template. We have two versions of it.
PNG version
Microsoft Word version
With the PNG version, you would add your prompts to the card with Paint or whatever image editing program you have. If it's easier for you, you can type them into the grid on the Word version.
We are not requiring you to add your prompts to the card in a particular order. However, in the spirit of the challenge and for a little randomness, we suggest one of two ways:
1. Put the prompts on the card in the order you received them (top to bottom, left to right).
2. Take your final list of prompts and run it through
random.org's list generator
, then put them in the card in that order (top to bottom, left to right).
The plumbbob in the middle of the Myshuno! card is a free space. You may use that either for automatic credit (to claim a Myshuno! if you've written up all the other prompts in that row) or as a "writer's choice" space, if you want an extra challenge.
Confused? Ask as many questions as you like in our rules post above. Instructions on how to claim either Myshuno! or Blackout will be posted closer to the start date.
Otherwise, go ahead and sign up, and get to prompting your fellow writers!
It is September 15th, and that means it is once again
Myshuno! time
*dramatic music*
Myshuno! is our annual fall prompts challenge. It's basically writing Bingo--instead of numbers, you fill your card with prompts provided by other people! This is our fourth Myshuno! event; the first three times, it produced a LOT of awesome short pieces and we had a respectable percentage finish both Myshuno! AND blackout.
If you haven't participated before, never fear, our rules/FAQ provided below are here to help you out! You can also go look at the past Myshuno! event posts in our friendly sticky announcement to see what happened in previous years.
(
Rules
Collapse
)
(
FAQs
Collapse
)
THIS IS NOT THE SIGN-UP POST.
Here is where you ask questions if you're confused or make any other general comments about the challenge.
There is a separate sign-up post here.
We hope you enjoy the challenge, and we're really looking forward to creating stories with you all!
Good eeeeeeevening.
We had one update to the community this week.
Chapter Updates:
ezana325
posted
Chapter 2.3
of their Zondra Legacy.
That's all for this week. Happy writing!


Title: The Zondra Legacy Chapter 2.3: Loss and Change
Author(s):
ezana325
Rating: PG-13 for revolutionary fervor, brief sim nudity
Link to Story: Chapter 2.3 (and all earlier chapters)

Summary: Chapter 2.3 of my on-going Zondra legacy, as the family deals with the loss of the patriarch and the blossoming of new love.
Warnings: none
We had one update to the community this week.
Chapter Updates:
katrisims posted Chapter 40 of her Bookacy Family Alphabet Adventures.
That's all for this week. Happy writing!
Author:
katrisims
Rating: PG/PG-13 (a bit of swearing, character death, kidnap, attempted murder)
Summary: A recap chapter from the founding generation to generation C (up until the current point), as narrated our very own gen. A spare Aadam.
Story link:
Chapter 40
Chapter index link:
chapter index
Notes: This one is quite massive in length, sorry about that. Apparently covering this amount of time and plot takes a lot of space. Also, be warned that I use my original pictures, which in the beginning were quite bad. Hopefully at least the writing is better and/or more consistent this time around.
Current Mood:

content
We had 1 updates to the community this week.
Chapter Updates:
esmeiolanthe posted Chapter 2 of Fuchs That!, her Trailer Park Challenge.
Sorry for the lateness. Have a good week and happy writing!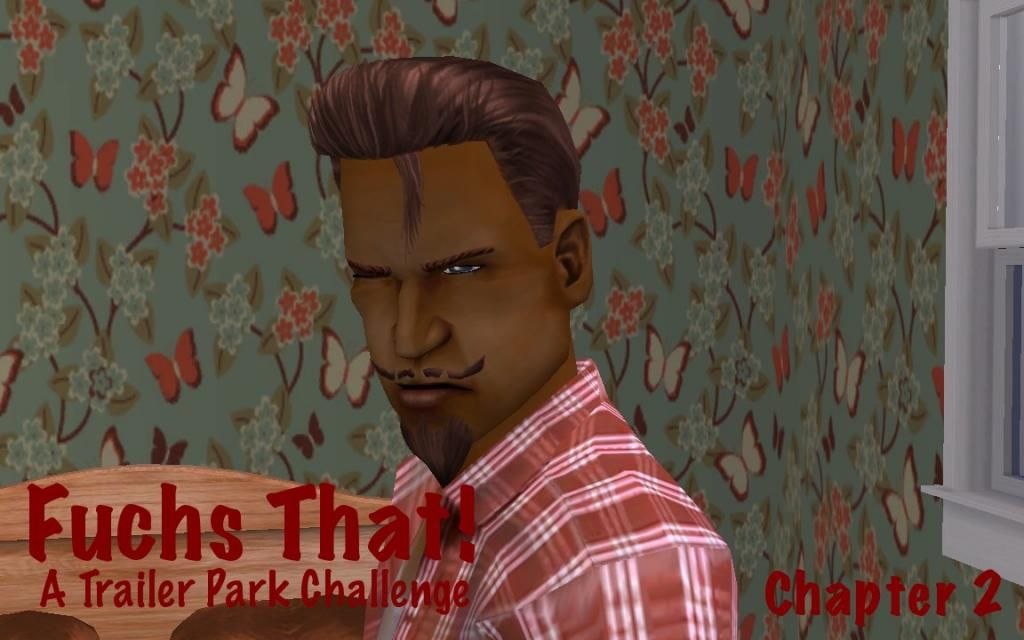 Title:
Fuchs That!: A Trailer Park Challenge, Chapter 2
Author:
esmeiolanthe
Rating:
PG-13, for implied woohoo
Summary:
Goochie gets a job. Goochie asks Adrian to move in. Yard sale!
Link to chapter:
http://esmeiolanthe.livejournal.com/117449.html
Link to Table of Contents for the story:
http://esmeiolanthe.livejournal.com/113815.html
Warnings:
Contains bad grammar, premarital woohoo, and will also eventually contain extramarital woohoo if Goochie has anything to say about it.
We had one updates to the community this week.
Prompt Responses:
silverbelle1220
posted
I Can't Take No More
for the prompts:
"And I don't know what I'm supposed to do/So I sit down and I cry too/And don't let her see." ("Her Diamonds," Rob Thomas), "We were once perfect me and you/we'll never leave this room" ("Hush," Automatic Love Letter).
That's all for this week. Happy writing!
Prompts will be posted 3 times a week and there will be two prompts per post.
Fridays will be quotes.
I will try to have a good mix of stuff that is both old and new. If you have suggestions please feel free to
post them here
.
1. You may write for as many prompts as you are inspired to. You can also do other projects - photoshoots, playlists, whatever you like, as long as it relates back to your sims or someone else's sims.
2. Post your prompt response directly to the community.
a. If the content of your response is R/NC-17 rated, for any reason, please post it to your LJ account and link to it in the post to the community, with the rating and why it is rated that way. Basically, if you wouldn't post it to the Exchange, don't post it directly in your post to the community.
3. Be respectful of other writers when responding to their posts. Helpful criticism is okay; insults and flames are not.
4. Please use the following format for a header for your prompt response:
Title:
Author(s):
Rating:
Prompt(s) Used:
Summary:
Warnings:
5. Put the body of your prompt response behind a cut. If you do not know how to do a LJ cut
here's a handy guide
.
------------------------------------------
1.
"In order to have wisdom we must have ignorance."
Theodore Dreiser
2.
"Not everyone comes back out of the dark."
Doctor Who
------------------------------------------
Happy Writing!
TGIF!!!
Current Mood:

drained